Man, what a couple of weeks I've got going. Rocked some Ironman 2 (Sam Rockwell is the bee's knees), Going to the UFOfest in Oregon, and we've got the finale of Lost next week. The best thing is another finished custom(finally) The Joker.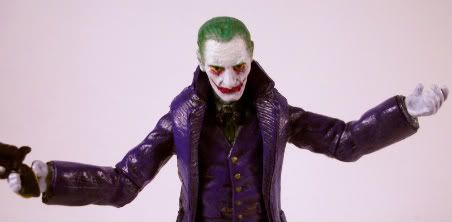 He's the third in my line up of bat villains. Again I tried to go for a mix of the classic comic look and add in some realism and my own personal style.
He went from being what I thought was going to be pretty simple to being a huge pain in the ass. I repainted his head 3 or 4 different times until I was happy with him. I did learn one thing while making him though, I hate painting eyes.
I though I'd throw in a group shot of everyone so far.
Well that does it for this post. I have a few more things in the works so I should have some new posts soon. See you next week, same bat time, same bat channel.
-Live long and prosper (gotta get ready for the UFOfest)